New Recruiting Paradigm on the Horizon for Nebraska High School Prospects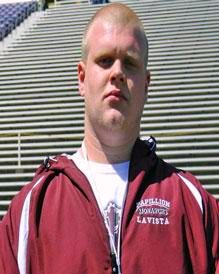 Dylan Utter, a 6-foot-3, 300lbs defensive tackle out of Papillion-LaVista High School, apparently has had a D-1A offer from Army on the table since May. "They had told my coach they were gonna [sic] to offer in May. Then at the end of June Coach Brock [John Brock, Army Dir. of Player Personnel] called and confirmed an offer," according to email correspondence he sent to MHN.
When I asked why there have been no mention of him receiving a D-1A offer from any media sources Dylan replied, "Because not many people know nor have recruiting pages talked to me for awhile."
In my experience this kind of thing is more common than most people could imagine.  But it still amazes that a athlete could hold onto the news so long when you realize how precious and rare it is to receive a offer to play at the highest level —especially for a Nebraska high school football prospect.
Utter's offer makes him the sixth Class of 2012 Nebraska prospect known to be holding at least one D-1A football offer. The other five are Jake Schany, Blair; Tavarius Bender, Lincoln Southwest, Mike Shoff, Cambridge; Drew Ott, Giltner; and Sam Cotton, Lincoln Southwest.
Cotton is currently the only one in the class with an offer from Nebraska. However, technically, David Sutton, who graduated from Lincoln Southeast this past spring and was offered a grayshirt from Nebraska, would also be counted in NU's Class of 2012.
Utter also has an offer from D-1AA North Dakota, but he is looking forward to more coming his way before signing day.  Kansas State, Missouri, and Colorado are among some of the schools still showing strong interest for Dylan.

Quickly Sizing up the Class of 2012
The Nebraska high school Class of 2012 is not a great class only because — at this point in the cycle— there are no 4 star or top 150 prospects listed. However, by no means is this class weak. There are number of quality prospects in MHN's Top 25 Prospects rankings (to be released this Sunday) that could push the final total of D-1 prospects offered from this class to 10 or more before everything is wrapped up in February.
The New Recruiting Paradigm for the State of Nebraska
"Cornhuskers' move to BIg Ten Country promises to bring more exposure to
D-1A programs for Nebraska high school athletes."
The conference realignments in the Big Ten and Big 12 will surely bring a new flavor to high school recruiting in Nebraska —the impact of which has not even begun to be felt:
Down the road you can expect to see more D-1A opportunities open up for Nebraska athletes as the Big Ten schools become more aware of the high school talent inside Nebraska. And you can bet that the more successful the Huskers are — the more schools will attempt to snag an athlete or two out of this state.  That's just how things roll.
In addition to the potential new pool of Big Ten schools that will at least swing their eyes towards Nebraska, the old Big 12 still remains — despite all the prognostication that the Big 12 Conference would collapse, after the departure of the Huskers and Buffalos.
The Big 12 survives stronger than ever due to a new, huge, long-term television deal from Fox Sports that will pay the conference an average of $90 mil per year for 13 years.  Consequently, because Nebraska sits practically in the middle of Big 12 Conference territory, schools like Missouri, Kansas, Kansas State and Iowa State will continue to keep an eye out for Nebraska high school talent like they always have.
The preceding means that now more recruiting eyes will be on the State of Nebraska. But will this ultimately translate into an uptick in the total numbers of Nebraska high school prospect receiving D-1A offers?
Enjoy the very strong possibility.
Related Links
Class of 2012 Nebraska HIgh School Football Prospect Board