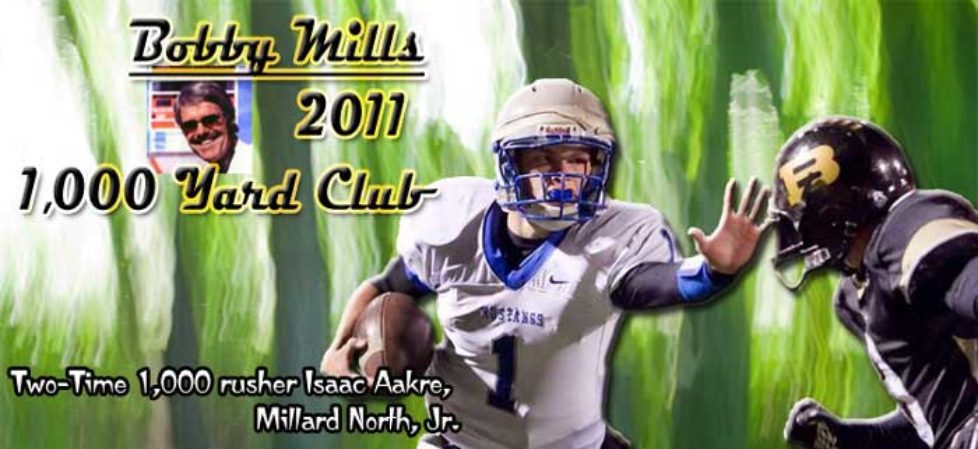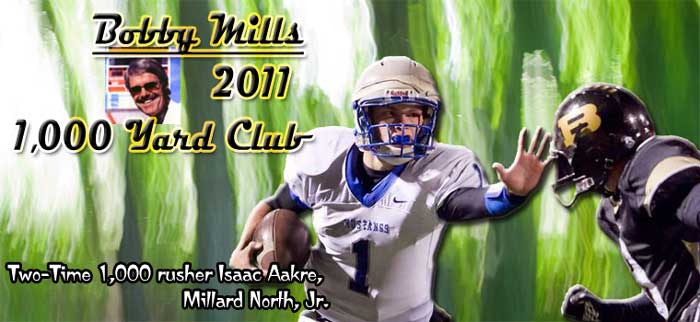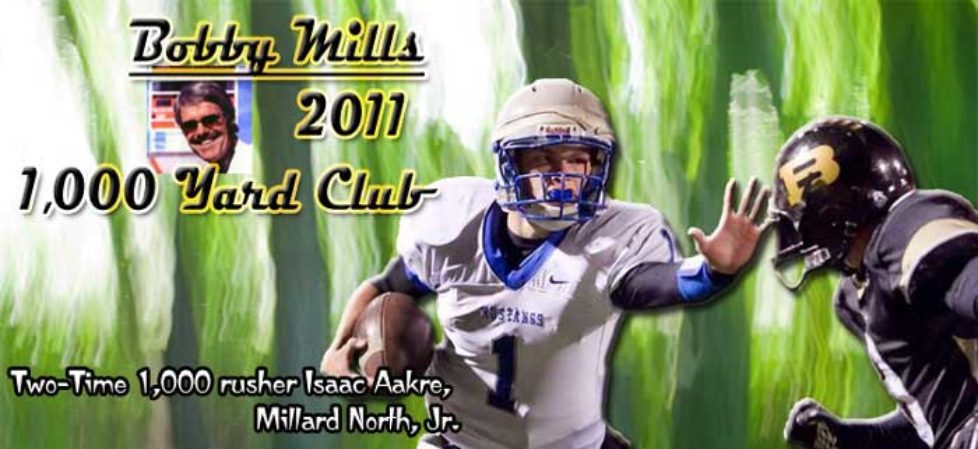 This is the 37th year for the 1000 Yard Club
The following are some noteworthy tidbits for this 2011 edition:
85 backs surpassed the 1000 yard plateau in 2011. 62 were seniors,

17 are juniors, and 6 are sophomores.

A record seven schools had two 1000 yard rushers: Omaha Burke, Pawnee City, Kenesaw, Creighton, Clarkson, Bloomfield, and Hitchcock County.

There were 42 eleven man backs to hit the mark, 37 were from the 8

-Man ranks, and there were six from the 6-Man football league.

Garrett Kolling from Alma was a 3 time thousand yard rusher.
Austin Casperson of Centura was the first back in his school's history to rush for over a thousand yards.
These backs have a chance to 3-peat as 1000 yard rushers in 2012: Isaac Aakre-Millard North, Jackie Bailey-McCool Junction, Luke Glenn-Shelton, and James Kruger-Norris.
Jacob Morrill of Creighton has a rare opportunity to become a four-year 1000 yard runner. He has rushed for over a 1000 yards in his first two seasons of varsity football, and will be a junior in 2012. Only two backs have ever turned that trick in history and they are Mike Brower of Fillmore Central (2000-2003) and Brandon Holtorf of Prague, who was also a 4-year 1000 yard passer from 1998 to 2001.
Leaders by Class
A-Devin Washington-Lincoln SE – 1,907
B-Jake Fowler-Adams Central – 1,764
C-1-Tyler Kavan-Wahoo – 1,895
C-2-Tom Peitz-Crofton – 2,138
D-1-Tanner Fate-High Plains – 2,014
D-2-Jed Fenske-Sargent – 2,036
2011 1000 YARD CLUB
| | | | | |
| --- | --- | --- | --- | --- |
| First Name | Last Name | School | Yards | School Grade |
| Tom | Peitz | Crofton | 2,138 | |
| Jed | Fenske | Sargent | 2,036 | |
| Tanner | Fate | High Plains | 2,014 | Jr. |
| Garrett | Borcher | Pawnee City | 1,962 | |
| Bryce | Potter | Elkhorn Valley | 1,949 | |
| Nate | Hass | West Point G.A.C.C. | 1,938 | |
| Devin | Washington | Lincoln SE | 1,907 | Jr. |
| Tyler | Kavan | Wahoo | 1,895 | |
| Isaac | Aakre | Millard North | 1,893 | Jr. |
| Kalen | Anderson | Loomis | 1,818 | |
| Jordan | Nelson | Omaha Burke | 1,791 | |
| Josh | Eklund | Friend | 1,769 | |
| Jake | Fowler | Adams Central | 1,764 | Jr. |
| Josh | Coyle | West Holt | 1,729 | Soph. |
| Drew | Schroeder | Arlington | 1,685 | |
| Anthony | Pacheco | Kearney Catholic | 1,631 | |
| Chance | Younger | Bertrand | 1,550 | |
| Graham | Nabity | Elkhorn Valley | 1,535 | |
| Reid | Weibe | Sutton | 1,520 | |
| Luke | Dlouhy | Deshler | 1,508 | Jr. |
| Austin | Blume | Hitchcock Co. | 1,507 | Soph. |
| Zach | Schuerman | Tri-County | 1,502 | |
| James | Kruger | Norris | 1,501 | Jr. |
| Cale | Brown | Hitchcock Co. | 1,500 | |
| Brandon | Barker | Loup County | 1,490 | |
| Jackie | Davis | Omaha Central | 1,481 | Jr. |
| Troy | McCuiston | Newman Grove | 1,470 | |
| Tanner | Zlab | Wilber-Clatonia | 1,434 | |
| James | Rathjen | Ft. Calhoun | 1,431 | Jr. |
| Nash | Schindler | Elgin/Pope John | 1,431 | |
| Chase | Golden | Lynch | 1,415 | |
| Garrett | Kolling | Alma | 1,406 | |
| Garrett | Harring | Falls City S.H. | 1,401 | |
| Shane | Faimon | Blue Hill | 1,390 | |
| Mitch | Pancost | Alliance | 1,373 | |
| Lance | English | S E M | 1,370 | |
| Jake | Paulsen | Cozad | 1,368 | Soph. |
| Luke | Glenn | Shelton | 1,362 | Jr. |
| John | Jeffers | Ogallala | 1,359 | |
| Devin | Marteney | Pawnee City | 1,355 | Jr. |
| Jackie | Bailey | McCool Junction | 1,352 | Jr. |
| Jacob | Morrill | Creighton | 1,347 | Soph. |
| Kennan | Sudbeck | Hartington C.C. | 1,341 | |
| Trent | Mastny | Howells | 1,336 | |
| DeQuan | Bell | Omaha Roncalli | 1,336 | Soph. |
| Tyler | Schnitzler | Kenesaw | 1,326 | Jr. |
| Carson | Collins | Omaha Burke | 1,324 | |
| Tanner |  Rupprecht | Red Cloud | 1,314 | Jr. |
| Austin |  Havlena | David City | 1,311 | Jr. |
| Alex |  Brehmer | Lyons-Decatur NE | 1,303 | Soph. |
| Jake |  Schany | Blair | 1,302 | |
| Austin |  Ruskamp | Freeman | 1,246 | Jr. |
| Ryan |  Mitteis | Creighton | 1,240 | |
| Cole |  Chvatal | Wahoo Neumann | 1,192 | |
| Jared |  Steffensmeier | Clarkson | 1,188 | |
| Eric |  Vejvoda | Ralston | 1,177 | |
| Mike | Minter | Lincoln NE | 1,176 | Jr. |
| Brian | Carlson |  Platteview | 1,176 | |
| Ethan | Long | Cambridge | 1,167 | |
| Derek |  Pfeifer | Humphrey S F | 1,167 | |
| Matt | Klein |  Scottsbluff | 1,159 | Jr. |
| JD | Leonard | Garden County | 1,155 | |
| Spencer |  Nickolite | Stanton | 1,153 | |
| Tyler | Aden | Gothenburg | 1,139 | |
| Alec |  Galven | Burwell | 1,134 | Jr. |
| Gavin | Robinson | Kenesaw | 1,124 | |
| Matt |  Chitwood | McCook | 1,114 | |
| Ryan | Bos | Clarkson | 1,100 | |
| Chet | Beckman | Bloomfield | 1,077 | Jr. |
| Andrew | Vinton | North Platte St. Pats | 1,076 | |
| Mark |  Pieper | Gering | 1,068 | |
| Tait |  Sibbel | O'Neill St. Marys | 1,067 | |
| Cody |  Wiesnieski | Dodge | 1,066 | |
|  Steffan | Peterson | Maywood | 1,062 | |
| Jordan |  Schoch | Cross County | 1,057 | |
| Hunter | Timmons | Medicine Valley | 1,053 | |
| Austin |  Casperson |  Centura | 1,047 | |
|  Jarod | Speer | Minden | 1,041 | |
| Ben |  Burmester | Pender | 1,036 | |
| Cole |  Dworak | Lincoln Christian | 1,034 | |
| Michael |  Enstrom | Oakland-Craig | 1,031 | |
| Riley | Shoemaker |  GICC | 1,028 | |
| Sawyer | Burke | Brady | 1,027 | |
| Alec | Wilson | Bloomfield | 1,012 | Jr. |
| Brady | Rasmussen | Loup City | 1,005 | Soph. |