Versatile Nebraska High School Football Product Proves too Worthy to Keep Off the Field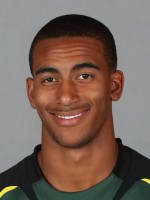 In 2009, former Omaha Central standout Daryle Hawkins got a last minute D-1 offer from the University of Oregon, and now the redshirt freshman is proving why the current No. 1 team in the nation made a wise move.
According to the Oregon Ducks official stats, Hawkins has played in four games in 2010, rushing 18 times for 93 yards and 1 TD and has caught 4 balls for another 26 yards and a TD.
Hawkins was recruited as a QB—still his listed roster position–but apparently the 6-foot-4, 192lbs Hawkins impressed Chip Kelly and his staff enough that they felt they had to get the versatile Nebraska high school product on the field in some capacity.
You can view Daryle's stats here: Daryle Hawkins Oregon Ducks.