Black Football Coaches Still Struggle to Make Way Into NCAA D-1A Top Ranks
By Will Cummings
myHitNews.com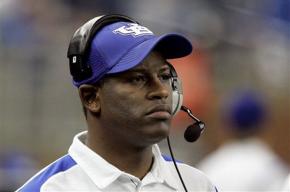 All indicators point towards former Husker great and current Buffalo University Head Football Coach Turner Gill  replacing Mark Mangino as the next head football coach at the University of Kansas. Gill reportedly had a interview with Kansas Athletic Director Lew Perkins, this past Sunday. The encounter went well enough that Gill, allegedly, held a meeting this week with his Buffalo team where he told the players that the Kansas job would be a great opportunity for him and his family–Gill's daughter, Jordan, is a student at KU.
   Two years ago, Gill was a finalist for the Nebraska head coach vacancy, but Tom Osborne chose to go with Bo Pelini. So how fitting it would be that Bo and Turner may now be routinely facing off against one another for recruiting talent and the Big 12 North Championship. Things will indeed get interesting in the Big 12 if Perkins decides to go with Gill. And why wouldn't he!
"Gill would be the proper fit at the right time for the Kansas program: A spiritual, cerebral, plain-spoken man of high integrity who knows the terrain of the Central Plains and the ins and outs of Big 12 football. He is the type of man that when he walks into a recruit's house–the parent(s) is going to know their son will be in good hands.

   Quite simply Turner Gill seems to be the perfect elixir for the massive headache that Mangino managed to put on the Jayhawk program."
   A Gill hire at Kansas would make him only the second current black head coach among the sixty-five D-1A schools that are eligible for an automatic BSC bowl berth by winning their conference championship. Those schools participate in the Atlantic Coast, Big East, Big Ten, Big 12, Pac-10, and Southeastern conferences. Miami's Randy Shannon is currently the only black head coach of a school belonging to one of these major conferences. Of course, three other black head coaches, Ty Willingham, Washington; Ron Prince, Kansas State and Sylvester Croom, Mississippi State also held the distinction, but were fired or stepped down from their post during the past two seasons.
Current
Black Head Coaches In D-1A College Football


(There are 119 D-1A football programs)

Ron English

Eastern Michigan

Turner Gill

Buffalo

Mike Haywood

Miami of Ohio

Mike Locksley

University of New Mexico

Randy Shannon

Miami University

Kevin Sumlin

Houston

Charlie Strong
Louisville
(Hired Wednesday, Dec 9, 2009.)
Cracking the Good Ol' Boy Network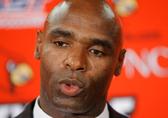 The NCAA is still struggling to loosen the entrenchment of the good ol' boy system within the college football head coaching ranks. Yes. We have come some ways since 1979  when Wichita State's Willie Jeffries became the first black head football coach at a division 1A school. However, in light of the staggering numbers of outstanding black athletes that have competed on college gridirons over the past five decades, the current number of seven black D-1A coaches in college football is downright horrid. Even more so when you look at the aforementioned number (1) of black head coaches at the top programs.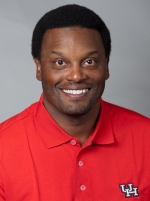 Hopefully, successes like those of University of Houston's  second-year head coach Kevin Sumlin (also in contention for the Kansas job) being named the 2009 Conference USA Coach of the Year, after leading his team to a 10-3 record, and Randy Shannon's posting of a 9-3 record and No.14 AP Poll ranking at Miami may move those good ol' boys to scratching their heads a little longer before traveling down the same old beaten path. After all–they want to win! And the truth of the matter is that black head coaches can win just as well or lose just as badly as any white coach. They just need to be given more chances.
   Former NFL Head Coach Tony Dungy, and current Pittsburgh Steeler Head Coach Mike Tomilin are testaments that a black head coach can succeed at the highest level.
Perhaps, one day soon, one of the aforementioned black coaches in this article–or someone waiting in the wings–will be the first to win a BCS Championship.